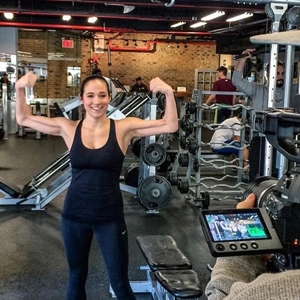 In July 2017, I was in the best shape of my life and had just turned 25. As a fitness fanatic (someone who can barely go a day without working out or doing some kind of
physical activity), I was devastated when I dislocated my kneecap by taking an awkward step while dancing at my friend's wedding (where I was a bridesmaid!) in July 2017. I've never had any serious health or physical problems. How could such a drastic injury happen while taking the smallest step, given the physical activities I do on a daily basis? It was devastating, confusing, and I was filled with uncertainty. I knew my family history of knee problems - my twin brother and older sister both had the same surgery that I would end up getting with Dr. MacGillivray following their own patellar dislocations.
I left my best friend's wedding in an ambulance, and the weeks following my knee dislocation were filled with anxiety, depression, many questions and uncertainty. Do I need surgery? Will I ever run again? How long until I can feel like myself again and continue my normal, active life? When will I be able to even walk? After getting my MRI results and being assessed by 3 different orthopedic surgeons, I decided to go with Dr. MacGillivray. Not only was he the surgeon that performed the same surgery for my brother and my sister, but the time he spent with me to walk me through my MRI results and help me understand everything that was going on with my body, what the surgery would entail, and what the long road to recovery would look like, made me feel the most at ease that I had felt in weeks. I had completely dislocated my kneecap, which had torn my MPFL and resulted in some loose cartilage. Dr. MacGillivray did an MPFL reconstruction on my left knee on August 2, 2017, about a month following my injury.
I owe everything to my family, friends, boyfriend, and doctors/nurses/HSS staff/physical therapists for where I am now almost 7 months after my surgery and 8 months after my injury. My surgery day was something I actually looked forward to--the beginning of my road to recovery. It was a day that I felt completely at ease in the hands of the nurses and staff at HSS. The weeks that followed consisted of endless hours of physical therapy, icing, and lots of rest. They were hard physically and emotionally, but I knew I was receiving the best care and that this long road to recovery would end in excellent results if I listened to my doctors. I was back on the treadmill about 3 months after my surgery, and I continue to build up my strength and endurance today.
The road to recovery is long and it will test you physically and emotionally, but I am a better person having gone through it all and I will never take my health or my ability to run, walk, go up and down flights of stairs, and even the simplest of movements for granted ever again. HSS is truly an amazing place filled with the best surgeons, nurses, and affiliated physical therapists. Thank you for everything you have done for me and continue to do for all of your patients! It is truly a privilege to be able to receive your care and I am forever grateful.