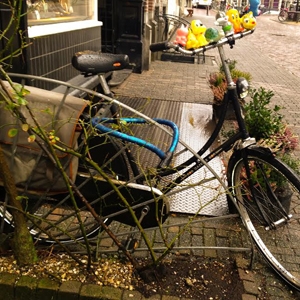 I came to HSS and Dr. MacGillvray after many months of unsuccessful PT to relieve pain in my knee from a hiking and Pilates injury, as well as to see if I could ease the
pain in my shoulder from an old full ligament tear.
On January 7th, 2014, Dr. MacGillvray repaired the meniscus in my left knee, as well as cleaning up my right shoulder rotator cuff. All went smoothly and easily on the day of surgery and I was back home that evening. The wonderful thing is that not only was I able to fly to visit family in Charleston, SC just 10 days later, but less then a month after surgery, I was then able to fly to Amsterdam on Feb. 1st and enjoy a week of easy walking all around the city. Both my shoulder and knee were a fabulous success.