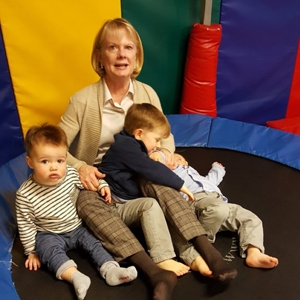 My journey to HSS started with a slip on my kitchen floor while unloading my dishwasher this past summer. Trying to brace my fall instinctively I put my arms out.
Unfortunately in doing so I tore my right rotator cuff although I did not know it at the time. I nursed it with ice and Advil. Several weeks passed and I was not getting better so I made appointment with a local orthopedic surgeon. An x-ray of the shoulder was ordered and it did not show any damage. He recommended that I wait for it to heal.
I am an active 58 year old woman, who enjoys tennis, golf, walking on the boardwalk and especially running after my 3 grandchildren on the beach. My injury prevented me from doing all of these activities and the pain was keeping me up at night and interrupting my summer. My husband had a spinal fusion at HSS a number of years ago with a terrific result. He kept insisting I make an appointment at HSS, which I did with Dr. John MacGillivary. My success story starts there.
The first thing you notice is the professionalism and efficacy of the office staff. Once I met Dr. MacGillivary I knew I was in good hands. After reviewing my MRI and performing a physical exam he confirmed what I suspected … a rotator cuff tear. He asked me about my lifestyle and reviewed my options. The easy way out was 6 months of PT with no guarantee to cure my tears or surgery.
What convinced me was when Dr. MacGillivary said "you are too active of a person to not be healthy, I can get you healthy. That's what we do at HSS." I opted for the surgery.
My surgery went as planned - the tear was more extensive than the film showed, but we had excellent result. Recovery was as expected the doctor's office staff Pam and Veronica explained what I should expect so I was well prepared. I am coming up on 6 months post op and have just completed my vigorous PT program.
Where HSS is different from other facilities is their staff. Everyone is on board with the mission. From the office staff, to the nurses, to the doctors, it is just hands down the best orthopedic facility. I can't tell you how happy and blessed my journey started and ended with HSS, the staff and with Dr. MacGillivary. Special thanks to Pam, who talked me off the ledge numerous times and was always there for my questions and concerns.
I happy to report I am pain free, my range of motion is 100% and I am anxious to get back on the golf course and tennis court. More importantly, hug my now four grandchildren! Thank you all!