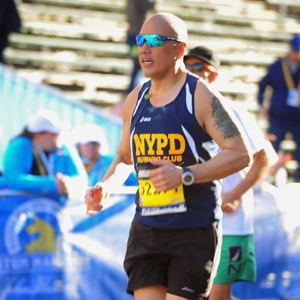 I am a triathlon athlete, running being my primary focus. I am also a USA Track & Field Certified Coach. A couple of months ago, without suffering any injury, I woke up
with swelling of my knee and severe tightness. Thinking it would just go away, I procrastinated a bit before going to the doctor. I continued running, running through the pain, until one day, it felt as if someone was digging a knife into my knee. Days later I went to my primary physician for examination and X-rays. Unable to find anything conclusive, they referred me to HSS for a specialist. I was fortunate enough to have been referred to Dr. MacGillivray. He and his staff were amazing. They were welcoming, courteous and professional. They arranged everything for me, including dealing with my health insurance, which is always an ordeal. They arranged for me to get my MRI the same day as my initial appointment. After I came back with my MRI results, Dr. MacGillivray diagnosed and demonstrated to me that it was definitely a tear in my meniscus. We then discussed the treatment plan, which included arthroscopic surgery. His staff was able to schedule surgery for me within about a week and a half and again dealt with my insurance company for approvals. I cannot express enough how happy I was to be able to take care of all this in that one day. As most New Yorkers, I have a pretty busy life and a very tight schedule. If I had to come back and forth to the hospital for MRIs, assessments, etc., it would have meant weeks of walking around in pain and not being able to be active. I left his office with full confidence in his diagnosis and treatment plan.
I never had surgery before, so I was a little nervous, but everything was smooth. Everyone we encountered from the second we walked into the hospital was friendly, and professional. I was registered quickly and was up in the operating room as scheduled. My family and I were treated with the utmost respect and was made comfortable throughout the day. They were updated periodically of my status and were brought in periodically for bedside visits without them having to ask if they could go in. Everything was explained to me at every step of the experience. I felt at home and at ease. After my surgery, Dr. MacGillivray sought out my family and updated them on my condition, and explained what was found and performed. Once the anesthesia wore off, I was instructed on the use of crutches and I was discharged.
I am now two and a half weeks post-surgery, and have gone for my first pain free run. I took it easy, but I was elated to be able to get back on the road. I'm looking forward to getting back in the game.
My total experience with Dr. MacGillivray, his team, and HSS was stellar. All medical institutions should strive to achieve this level excellence.