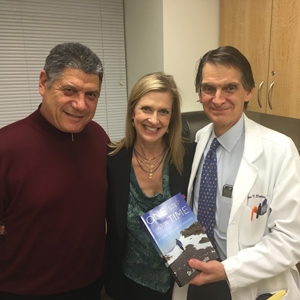 Back in the Game: By Teresa M. Randolph
I owe a huge debt of gratitude to several amazing doctors and the dedicated staff of Hospital for Special Surgery. Over the course of roughly 6 years, I underwent 5
different surgeries performed by 3 incredible surgeons. Combined, I was under the knife for roughly 18 hours! Prior to my first surgery in 2005, I was quite literally unable to walk. Thanks to the amazing work of these doctors, I am happy to report that in 2014, I summited Mount Kilimanjaro in Africa. Kili, as it is affectionately known, is one of the seven summits of the world and happens to be the world's highest free standing mountain (not part of a range), standing 19,341 feet! It took our group 7 days to reach the summit and another 2 days to come down. During that time, I hiked more than 80 miles over incredibly rugged terrain.
Some 55 years ago, I was born in Tulsa, Oklahoma. Unfortunately, I was born with a congenital dislocation of my right hip. The standard of care back then was to place such patients in a special cast for several months in an effort to correct the birth defect. Although I was able to pursue a relatively normal life, if truth be told, the working mechanics of my right leg were never perfect and the alignment of my bones deteriorated progressively over time.
In 2005, while running to catch a connecting flight in the Dallas Forth-Worth airport in Texas, I felt a sudden sharp pain in my right foot and ankle. Due to faulty mechanics over many years, I snapped the tendon on the medial side of my right ankle. The pain was pretty bad and worsened over the next few weeks until it became literally impossible for me to walk without assistance.
Fortunately, my husband is a medical doctor and through him and one of his physician friends who is an orthopedic surgeon, we found our way to Dr. Jonathan Deland at HSS. I will never forget my first consultation with Dr. Deland as he evaluated my foot and ankle. He told me that I had a rather severe injury and that he would need to do major reconstructive surgery on the foot and ankle. He explained that when he starts to fix the ruptured tendon and the alignment problems in my foot, he would need to tighten many other tendons and ligaments, reconstruct my ankle bones with a sliding osteotomy and straighten the bones in my toes. I asked him how long the surgery would take. He told me about 5 hours. However, he also said that the post-operative rehab phase would be extensive. He said I would need to be on my back for complete bed rest, with my foot and ankle elevated for about 6 weeks, then on crutches for several months, with gradual increase in weight bearing. He said that I would need extensive physical therapy. All in all, he told me to expect that it would be about 6 months before I would be fully recovered.
Although I was obviously shocked to hear this information, I understood that I needed to do anything required to regain my active life. My husband and I liked to ski, play tennis, golf and dance. Also, New York where we live, is obviously a walking city and the thought of not being able to walk without a cane, or not at all, was quite overwhelming to my senses. I was determined to do whatever was necessary to get well.
The first surgery, lasted 9 hours! Unfortunately Dr. Deland was not able to complete the operation. As he explained it, he performed my surgery in a bloodless field to prevent significant blood loss. He used a tourniquet to create this bloodless field. Due to the extent of my injuries and the deformities in my foot and ankle, he was not able to maintain the bloodless field for longer than 9 hours. He explained that if he did, the tissues would die from lack of oxygen. He therefore had to terminate the first operation. He told me that I would have to lie on my back with my foot and ankle elevated for the 6 weeks and then he would need to take me back to the operating room to complete the reconstruction.
That was a very hard time because I knew I had to undergo another operation after a month and a half of lying on my back and the second operation would need to have its own recovery period. However, I remained determined. At that point, I really had no choice, so I did all I could to keep a positive attitude. I could not have done it without the love and support of my husband, who had to take care of all my needs. I was not allowed to do any weight bearing.
When I went back to Dr. Deland's office to change the dressing and remove the sutures, I was shocked to see how many different incisions were in my foot and ankle. In addition, I had pins sticking out of the ends of my toes. They removed at least 100 sutures, wrapped up my foot and ankle in a new dressing and I had to go back and lie on my back, with my foot and ankle elevated on pillows for another month.
A month later, I returned to HSS for my next surgery. This one took Dr. Deland 4 hours to complete. I would again need to return home to bed, with my foot and ankle elevated on pillows to prevent swelling, followed by about 6 weeks on crutches, and intense physical therapy. Unfortunately, Dr. Deland told me that I would likely need a third operation for what he called a "touch up". He explained that once I started weight bearing again, some changes may take place to my baby toe. He explained there was no way for him to know if I would need that third operation or when it would be necessary. I did my best to think positively and keep that out of my mind, as I kept with the program of gradual return to function. Again, I was so lucky to have a husband who is a physician, as this was very helpful.
Long story short, is that I did everything I was instructed to do. I had a wonderful physical therapist recommended by HSS. She had suffered a lifetime of problems with her knees and she was very compassionate to my situation. She was highly knowledgeable. I did require a touch up operation some 3 years later, as my baby toe started to elevate and was becoming painful. Fortunately this third operation lasted just two hours and the recovery period was much less intense. Although my foot and ankle did not look completely normal, I was able to return to my life. I was instructed not to play tennis because of concerns for the jolting motion of repetitive "stop-start" activities. However I was able to walk without pain, dance, play golf and do non-impact exercises such as the elliptical.
In 2011, my husband and I went to the Dominican Republic for a vacation. As we arrived at our hotel, they told us to go to our assigned room and they would send our bags to the room. It was about 6.00 p.m. and getting dark. The minibar refrigerator in our room was leaking water onto the tile floor. It was very slippery. I was certainly not expecting this and my feet went out from under me. I sustained a bad Colley's fracture to my left arm. Although the doctors in the D.R. tried to fix my fracture with a closed reduction, this was not successful due to the extensive displacement of the bones. So we returned to New York and went back to HSS where Dr. Andrew Weiland took care of me. He performed an open reduction surgery. He had to insert a plate and multiple screws to secure the fracture and allow healing to take place to preserve function. Dr. Weiland did an excellent job! I immediately felt better. Again, the rehab was quite extensive and I had to have physical therapy. I followed all instructions and am happy to report that I now have full function of my left arm. I will never forget that on one of my visits to the hospital, I saw one of the older volunteers pushing a cart around the hospital. She informed me that she too had sustained a Colley's fracture but she did not have surgery. The alignment of her bones was terrible. Even though I am not a doctor, I could see a marked deformity of her wrist and I am sure she has significant pain in that arm. She tried to demonstrate her range of motion and it was very limited. I am so grateful to Dr .Weiland for the job he did. My arm looks and feels perfectly normal and you can hardly see the incision he used for the operation. I went through physical therapy with a therapist recommended by Hospital for Special Surgery and she was outstanding. I have full range of motion in my wrist and hand with no pain at all, so I feel very fortunate.
In late 2012, I was throwing a baseball to a friend's son. As I threw the ball, I felt something rip in my right shoulder. At first I ignored the pain but with each passing week, the pain kept getting worse and I felt my arm getting weaker and weaker. So in June of 2013, back we went to HSS to consult with Dr. John MacGillivray. He informed me that I had a torn rotator cuff and he strongly advised me to have surgery to repair the tear. He told me that if I did not have the surgery, I could expect the injury to get worse over time, until eventually even surgery would not help me. I told Dr. MacGillivray that we planned to climb Mount Kilimanjaro at the end of the year (6 months later) and I was concerned about that because we were already in training and had already planned the trip, booked our flights and so forth. At that time, I was not thinking much about my shoulder injury interfering with my ability to climb the mountain. I thought it was all about my legs. However now that I have done the climb, I am 100 % certain that I would not have been able to reach the summit of the mountain with my shoulder injury. Dr. MacGillivray assured me that if I did the surgery soon and committed myself to the rehab including physical therapy, he was confident I would be fine for our planned climb.
I had the shoulder surgery at HSS on July 31, 2013. This was the most painful of all my prior orthopedic operations but fortunately my husband helped me with liberal use of pain medications. I again had to undertake intensive physical therapy for rehab. This time I went to Spear Physical Therapy. They were fantastic. About 4-1/2 months after the surgery my shoulder felt as good as new and I was ready to carry a backpack and conquer Mount Kilimanjaro at the end of the year!
In late December 2013, we traveled to Tanzania to attempt to reach the summit of Mount Kilimanjaro. I am happy to report that I was successful in my attempt. It was a life changing experience in many ways.
Needless to say, I am a huge fan of the doctors and staff of HSS. I think Dr. Deland, Dr. Weiland and Dr. MacGillivray are all geniuses and they have helped me more than I can ever describe in words. Without their expert work, my life would be very difficult and quite limited. I thank them all with every step I take in my life. I live without pain and am grateful to be able to live a very active life. The staff at HSS were also wonderful. I also need to acknowledge all the help I got from my physical therapists who helped me get back in the game. I would be happy to speak to any person needing surgery to give them encouragement. The best way to reach me is via email at trandolph@nyfsb.com.
My husband, Dr. Joel Batzofin, was the team leader for our Kilimanjaro adventure. He has written a book about our experience called One Step At A Time - A Climb Up Mount Kilimanjaro. Further details of my surgeries are described in chapter 3 of the book.